services
Sudzy Puppy offers a full range of traditional grooming
and full pet spa services. We also offer several walk-in services.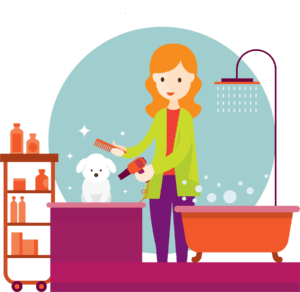 Premium Spa Packages
All premium spa package upgrades include a complimentary towel wrap with service to enhance the relaxation of your pet. If your pet has skin or coat related issues ask to book with one of our licensed Certified Canine Estheticians. They can evaluate your pet's specific needs and customize a treatment plan to help work towards a healthier skin and coat.
De-shedding Treatment $20.00 Includes Earthbath shed control shampoo & conditioner treatments with an additional 10-15 minutes of de-shed brushing
Blueberry Spa Package $15.00 Includes a full body blueberry shampoo and blueberry cologne. Spa package includes nail filing and toothbrushing.
Glisten Spa Package $15.00 Glisten Shampoo & Nourish Conditioning Treatment – Adds luster and shine, made with glistening mica minerals, vitamins and organic ylang ylang, moisturizes with sunflower oil and honey. Spa package includes nail filing and toothbrushing.
Revitalize Spa Package $15.00 Revitalize Shampoo & Nourish Conditioning Treatment – Great for older dogs or any dog with sore joints or dry, flat coat. It revitalizes by adding volume to dry, flat hair; peppermint is soothing and refreshing and enhances blood flow; it has some anti-bacterial & anti-inflammatory properties. Spa package includes nail filing and toothbrushing.
Volumizing Spa Package $15.00 Ultimate in luxury shampoo. Promotes the natural crisp feeling in the coat and adds volume. It will highlight all colors. Contains aloe vera to calm and moisten the skin. Aloe Mist conditioner makes the coat easier to brush and gives great volume and structure. Anti-static and powerful detangling effect. Spa package includes nail filing and toothbrushing.
Aromatherapy Spa Package $15.00 Gentle shampoo that is also great for the skin. Calming for those dogs who might need a little help relaxing so they can fully enjoy their day at the spa! Spa package includes nail filing and toothbrushing.
Soothe Spa Package $15.00 For dogs that need a more intensive bath. Contains Chlorahexidine, an antiseptic disinfectant with a wide range of antimicrobial activity against fungi and most bacteria. Medically formulated with aloe, sunflower oils and Bentley cleansers. Spa package includes nail filing and toothbrushing.
Mineral Mud Bath $15.00 – $20.00 Gently addresses skin and coat issues. Removes impurities, exfoliates skin and coat. Deep conditions, hydrates and rebuilds the coat. Adds shine and gloss. Soothing, tranquil fragrance.
Pawdicure Foot Soak $10.00 Fights and helps to eliminate fungus, bacteria, and germs. Your dog will have his feet soaking in a warm tub with our Warren London Deep Cleaning Dog Paw Fizz Tablets. A lovely fragrance drifts upwards while the natural herbs and oils work their magic and your dog enjoys a relaxing massage.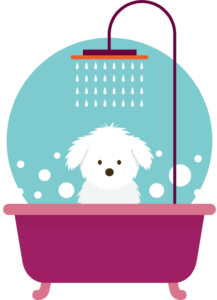 Full Service Groom Packages
All of our full service groom packages include your choice of either our basic shampoo or an unscented hypoallergenic shampoo (upon owner's request).
Bath and Nails 
A "Sudzy" bath
Anal gland expression as needed (large breed dogs by request only)
A max brush out of 15 minutes
Nail trimming
Ear cleaning
Trimming the hair on the privates & pads of feet (Does not include any trimming that would require scissoring)
Prices range $30.00 to $65.00 in most cases and vary based on size, breed and condition of coat.
Bath and Clean-up
"Bath and Nails" service
Consultation with your groomer to determine where additional trimming is wanted.
Scissor trimming of no more than 2 inches on feet, back of legs, belly, face, ears and tail only. This does not include any clipper work on the body. If you would like an all over trim, then try our Full Service Haircut.
Prices range from $45.00 to $120.00 in most cases and vary based on size, breed and condition of coat.

Full Service Haircut 
"Bath and Nails" service
Consultation with your groomer to determine a customized haircut based on you and your dog's needs.
Haircut all over with clipper lengths up to one inch and scissor finishing in the style of your choice.
Prices range from $65.00 to $175.00 in most cases and vary based on size, breed and condition of coat.
Puppies First
This is a special service for the new four-legged baby in your family… It's like the first day of school. Extra time and care is taken to familiarize your baby to the clipper, dryer and of course tubby time.
"Bath & Nails" service with a special tearless puppy safe shampoo (baby powder scent)
Clipper recognition
Limited scissor work including the feet and corner of eyes and visor if able.
We strongly recommend getting a "Puppies First" service before any Full Service Grooming is performed. This will give your groomer an opportunity to evaluate your puppy's fears and strengths so we can work together to make their first full service grooming experience as stress-free as possible.
Prices range from $40.00 to $50.00 for puppies 2 to 4 months.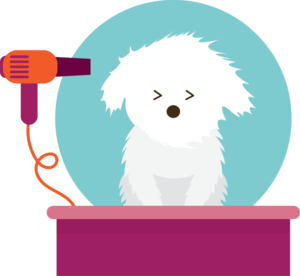 Specialty Shampoo Treatments
All of our full service grooming comes with your choice of our standard moisturizing or hypo unscented shampoo. These additional shampoo options allow you customize your pet's grooming needs.
Itchy Dog Treatment $5.00
Brightening Facial $5.00 A special shampoo loaded with brighteners to lighten tear stains.
Herbal Facial $5.00 A special shampoo used to prevent future staining on the face. This shampoo is warmed up and gently massaged onto the face. Contains extract of henna, nettle, chamomile and rosemary. Stain removal and color enhancement will improve after 2 or 3 treatments.
Medicated Facial $5.00 This antimicrobial shampoo is blended with lavender oil, which is known for it's antiseptic properties. This facial is especially helpful when the eye area has buildup and may be tender.
Blueberry Facial and Spritz $5.00 This facial cleanses and brightens, while leaving a fresh blueberry scent. A spritz of blueberry clove scented cologne is included with this treatment.
Deep Conditioning Treatment $5.00 Soothes dry, flaky skin. Contains aloe vera and jojoba oil. Re-hydrates the skin and coat. Lightly scented with coconut.
Jojoba Oil Polish $5.00 Includes a light jojoba oil application with additional polish brushing helps moisturize dull coats and skin & leaves your pet's hair shiny & healthy. (This service is for short coat breeds only.)
Flea Treatment $10.00 – $20.00
(This treatment is required if fleas or flea dirt is found on your pet.)
De-skunk Treatment $20.00 We have a variety of shampoos and methods we use for stripping out this unwanted odor; unfortunately there are not very many effective products that are green, chemical free, & eco friendly. Even with the best products on the market and 3 to 5 wash cycles full removal of this smell is not fully guaranteed and may resurface when your pet gets wet or is bathed again.
Add-on Services
Teeth Brushing $5.00
Nail Filing $5.00
Coloring Service Adding color is a fun way to express you and your pet's personality. Non-toxic and gentle semi-permanent colors for pets. No long-term commitment because it gradually washes away. All dye is pet safe. Coloring results may vary with coat type and breed.
Ears or Tail $15.00
Ears and Tail $25.00 +
Full Body Single Color $50.00 to $70.00 (depending on dog size and coat type)
Full Body Multiple Colors $70.00 to $120.00 (depending on dog size and coat type)
Basic Spa Package $12.00
Includes teeth brushing and breath spray, nail filing and any $5.00 specialty shampoo treatment.
Mat Removal (when mats are cut out, not brushed). $5.00 to $30.00 depending on the level of matting.
De-matting (when the matting can be brushed). After the initial $5.00 detangling treatment rates are $1.00/minute. Our groomers can give you and estimate on time required for your pet's brush out but an exact price cannot be quoted until de-matting is completed.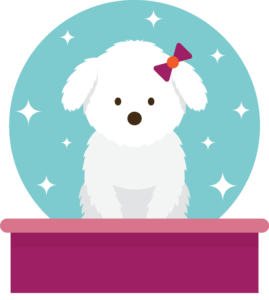 Same Day Services - by Appointment
Nail Trimming $15.00
Nail Filing $20.00
Hair trimmed on pads and feet $5.00 to $10.00
Teeth Brushing $5.00
Ear Cleaning $5.00
Anal gland expression $10.00
Quick eye trim $5.00
All-over face trim $10.00 to $15.00
(Price varies depending on condition of coat and amount of trimming. Also note if your pet's hair is not clean and dry service may be refused. In this situation getting an even trim is very difficult and could damage our equipment.)
Please note...
All grooming service descriptions and fees are based on the amount of time it takes to perform the service. Additional charges may apply to dogs that are shedding excessively, blowing coat, have matting or are overgrown. Our groomers will try to inform you of potential additional charges during check-in but sometimes these issues go undetected until the grooming is underway. Excessive undercoat and matting fees are listed in "Add-on Services" and range based on severity & size.